Ma'an News Agency Removes Antisemitic Article
Following exposure by Palestinian Media Watch.
Following "Palestinian Media Watch's exposure yesterday of a venomous Antisemitic article published by the independent Palestinian Ma'an News Agency, Ma'an removed the article from its website. Ma'an's administration wrote that it removed the article "because it contains incorrect information and hateful content that are unjustified and which do not in any way represent the opinion of Ma'an or its editorial policies." (See full statement below.) [Continue Reading]
I guess Ma'an
forgot again
that kaffirs also read
their Arabic
website, eh
@maannews
?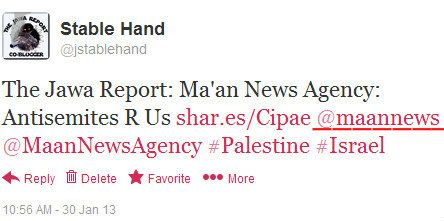 Sunlight is the best disinfectant,
at times
. Previous:
Ma'an News Agency: Antisemites R Us
Posted by:
Stable Hand
at
10:49 AM
Comments
1
Well they had better not say anything against America.
Posted by: Big Al at February 01, 2013 08:12 AM
Processing 0.0, elapsed 0.0031 seconds.
15 queries taking 0.0023 seconds, 9 records returned.
Page size 6 kb.
Powered by Minx 0.7 alpha.