#Egypt #Tahrir: No Al Qaeda Flag Wavers In This Crowd Of Protesters
Unlike these al-Qaeda loving Egyptians protesting against France's involvement in Mali:
These Egyptians only wave the flag of Egypt. For a second day, the protest continues in Egypt. Yesterday marked the 2nd anniversary of the protest to oust Muburak. A sham election brought the Muslim Brotherhood into power. From one dictator to another, only this time, a shariah loving, America/Israel/Westerners hating one: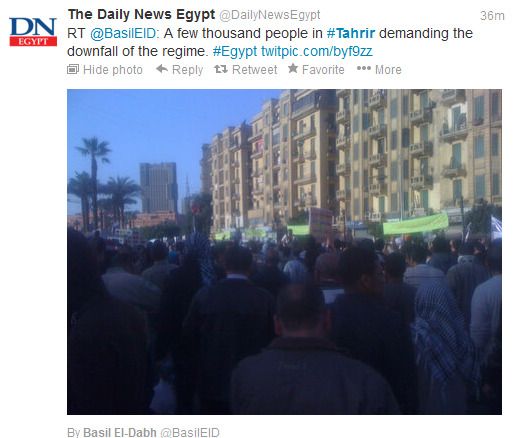 Although, note the A-C-A-B (all cops are bastards), used by OccupyWallStreet, is on the wall. I don't know if this is 'old graffiti" or not.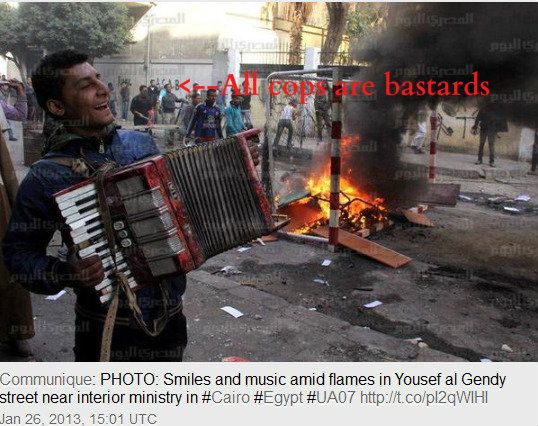 Occupy and Anonymous types
were also present in Cairo on 9/11/2012 espousing hate for America.
Continued below fold:
@DailyNewsEgypt: Some protesters in #Tahrir square decided to go to the Shura Council via @BasilElD http://twitpic.com/byfdff:
Related:
Man Holding Sign In #Tahrir Square: Obama You Jerk, Muslim Brotherhoods Are Killing The Egyptians
Posted by:
Stable Hand
at
09:54 AM
Comments
Posted by: obsidian at January 26, 2013 12:13 PM
Posted by: Kafiroon at January 26, 2013 12:18 PM
Posted by: Big Al at January 27, 2013 09:11 AM
Posted by: I Am Still Here at January 27, 2013 09:23 PM
Posted by: Bill C at January 28, 2013 02:31 PM
Posted by: whocares at January 29, 2013 08:48 AM
Processing 0.0, elapsed 0.004 seconds.
15 queries taking 0.0028 seconds, 14 records returned.
Page size 10 kb.
Powered by Minx 0.7 alpha.