Inauguration Funnies: TPM: 'Virginia GOP Pulls Dirty Trick On Inauguration Day'..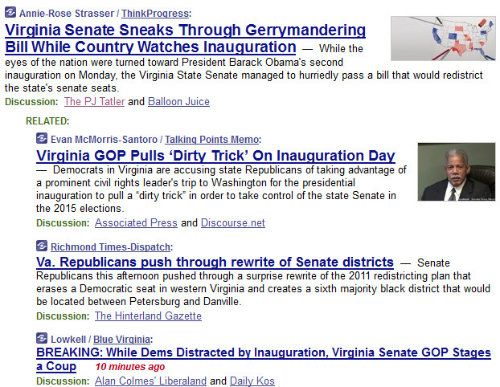 They worked, how dare they
![PJTatler] All eyes should have been on
The Second Coming
h/t
memeorandum
Even worse?
Twitter has been having sporadic outages
and that makes it harder for Soros lackeys to get the word out!
Posted by:
Stable Hand
at
11:32 PM
Comments
1
DON'T YOU HATE WHEN THE GOP USES THE SAME
TACTICS AS THE DEMOS? AND WIN. HA, HA, SUCK
ON THAT AXELMORONDUCHEBAG....... DO ALL OF
US A FAVOR, ABORT A LIBERAL !
Posted by: marcus tullius cicero at January 22, 2013 10:21 AM
2
Marcus; I agree with you 100%.
But Please get off the caps!
Posted by: Kafiroon at January 22, 2013 12:10 PM
3
Virginia. George Washington, Thomas Jefferson, and Marse Robert are weeping.
Posted by: EROWMER at January 22, 2013 01:38 PM
Processing 0.0, elapsed 0.0068 seconds.
15 queries taking 0.0054 seconds, 11 records returned.
Page size 6 kb.
Powered by Minx 0.7 alpha.