Report: In Amenas, #Algeria - Canadian Passports Found On 2 Dead Terrorists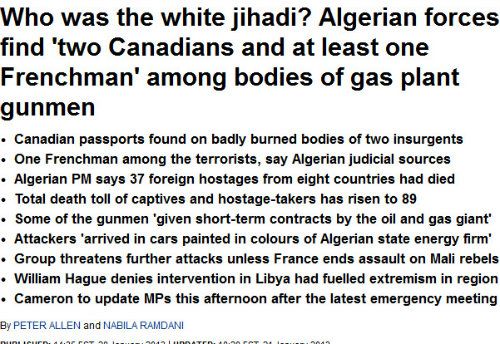 Click
here to read the updates
Previous:
In Amenas, #Algeria Hostage Crisis Reportedly Comes To A Violent End Update: Report: 5 Terrorist 'Taken Alive'
Lessons Learned(Bumped)
In Amenas, #Algeria: One American Dies In Hostage Siege
#Algeria Hostage Crisis: Terrorist Want To 'Swap' 2 Americans For 2 Jailed Terror Figures, Blind Sheikh One Of Them Update: Lady Al Qaeda Is The Other One
In Amenas, #Algeria Hostage Crisis: Does This Really Hep?
#Algeria: Some Hostages, Including Americans, Escaped Captors
Unconfirmed Report: Several Hostages & Their Kidnappers Killed In Algerian Airstrike FRANCE 24: Hostages Forced To Wear 'Suicide Belts'?
US Officials Confirm Americans Among Those Held Hostage by Al Qaeda-Linked Group in Algeria
Al Qaeda Linked Group From Mali Claim They Are Holding 7 Americans, Among Others..
After Taking Control Of Algerian Gas Field(Update)
Posted by:
Stable Hand
at
11:35 AM
Comments
1
Not necessarily Caucasians.
France is rife with ethnic Algerians, and Canada has a lot of Pakistanis and people from India, as they allow easy immigration for anyone who speaks and reads good English or French, and has a college education ( and if you speak and read good English AND French, you have enough points to get in even if you dropped out of high school ).
Posted by: Kristophr at January 21, 2013 12:04 PM
2
Now! New and improved jihad! With more people who look normal. Diversity is not just for liberals anymore.
Posted by: EROWMER at January 21, 2013 02:41 PM
3
Why has that site been showing hollowed-out grenades for at least the last two days?
Posted by: Phil at January 21, 2013 03:02 PM
Processing 0.0, elapsed 0.0029 seconds.
15 queries taking 0.002 seconds, 11 records returned.
Page size 7 kb.
Powered by Minx 0.7 alpha.