Laughing Wolf Is Offering,This Weekend Only, A Free Kindle Version Of "A Different View: Travels with Team Easy, Iraq 2007"...
Rusty posted a few days ago about our friend Laughing Wolf's soon to be self-financed embed in Afghanistan
Longtime blog-friend Laughing Wolf is preparing to head to Afghanistan on a self-financed embed. If you've ever read Blackfive, you know his work. So, if you have any excess cash why not go drop him a dime or two? Even if it's just $5 I'm sure it would be appreciated. A lot of readers giving small amounts can go a long way.
As a thank you to us for getting the word out about his embed, he has offered,
this weekend only
, a free Kindle version of
A Different View: Travels with Team Easy, Iraq 2007 [Kindle Edition]
[Laughing Wolf]So that more people can see a small bit of what I do on an embed, I've arranged for people to be able to get a free Kindle version of my book "A Different View: Travels with Team Easy, Iraq 2007" this weekend. The book is mostly photos of day-to-day life for the troops, done because it is a side that few get to see. I went with minimum text because I want people to form their own thoughts about the photos, and for them to spur memories for those who have served. The best complement I've had so far is a VietNam vet who bought a print copy to take to his unit reunion, because he wanted to show them 'different war, same stuff' and, even better, he wrote in the book about memories the photos evoked, and had his buddies do the same. That's what I wanted to see happen, and I'm glad to know it did.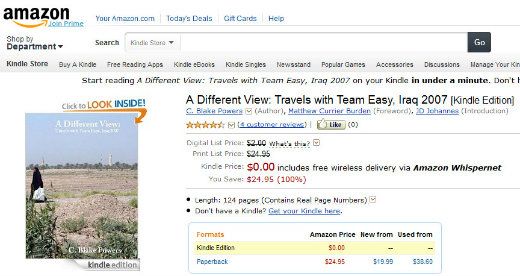 Click the image above or link for more
I just finished downloading it to my Kindle Fire. And if you haven't yet, and can spare some loose change, I'm sure he would appreciate a few bucks,
no matter how small
. Thanks again to Laughing Wolf for offering this to us.
Posted by:
Stable Hand
at
11:53 PM
Comments
1
Laughing Wolf is an interesting guy. I will be interested to hear what he has to say.
Posted by: Mark at January 19, 2013 10:10 PM
Posted by: Jrr at January 19, 2013 10:48 PM
3
Thanks for the heads up. I just downloaded it to my Kindle app.
Posted by: LKP at January 20, 2013 12:47 PM
Processing 0.0, elapsed 0.0042 seconds.
15 queries taking 0.0032 seconds, 11 records returned.
Page size 7 kb.
Powered by Minx 0.7 alpha.