Algeria: Some Hostages, Including Americans, Escaped Captors
Unconfirmed Report: Several Hostages & Their Kidnappers Killed In Algerian Airstrike
FRANCE 24: Hostages Forced To Wear 'Suicide Belts'?
Leader of terrorist kidnappers: Mokhtar Belmokhtar aka **Mr Marlboro aka One eyed bitch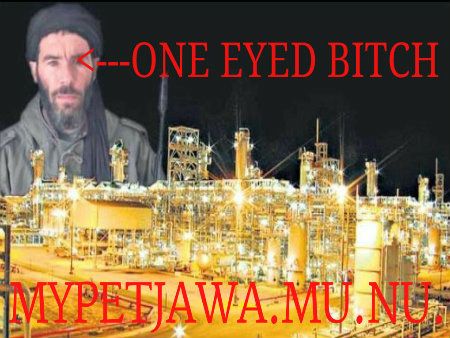 Goats beware: Jihadi on the forums are getting off on Mr Marlboro's image
Update on
US Officials Confirm Americans Among Those Held Hostage by Al Qaeda-Linked Group in Algeria
Developing...
An Algerian security official says at least 20 foreigners have escaped from the natural gas plant deep in the Sahara desert where Islamist militants are holding dozens of hostages. The official said those escaping included Americans and Europeans. He did not give any further details.
'Some' of the Americans who escaped reportedly have called their families.
This has not been confirmed
. "US officials" have
spoken about the phone calls
. There are also reports a Irish hostage has also contacted his family
to say he was safe and free
. [Update]Newstalk has confirmed this, he is
36yrold Stephen McFaul
Also, Reuters is reporting
Thirty-four hostages and 14 of their al Qaeda-linked kidnappers were killed on Thursday in an air strike by the Algerian armed forces
The report could not be verified as one of the kidnappers stated that to Mauritania's ANI news agency. The spokesman for the kidnappers has also said they would kill the rest of the hostages if the Algerian army approached. The terrorist are demanding France stop their attack on their terrorist buds in Mali. Update: 48hr rule. Reuters now reporting
6 hostages and 8 terrorists
died in Algerian army's airstrike. And, remaining hostages are two Americans, three Belgians, one Japanese and one Brit.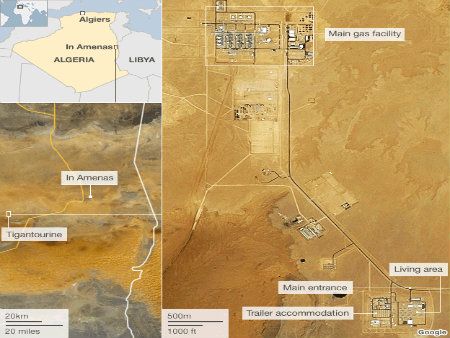 Image credit: FRANCE 24's liveblog[Note: I removed prior image]
Update II: FRANCE 24 apparently has spoken to one of the hostages, a French national
He said the militants simultaneously stormed the gas plant as well as the workers' living quarters. "They came in and once there was daylight, grouped us all together." He said the attackers were heavily armed and forced several hostages to wear explosives belts. They threatened to blow up the gas field if Algerian forces attempted to enter the site. FRANCE 24 could not verify if the testimony was made under duress
Update III: ABC is reporting, per Panetta, "there may be seven or eight Americans among" those held by the terrorists
Algeria troops had surrounded the compound in the Sahara desert, where hostages from the U.S., Algeria, Norway, Japan, France and other countries are being held by terrorists who claim to be part of Al Qaeda and are led by a one-eyed smuggler known as **Mr. Marlboro. Defense Secretary Leon Panetta told ABC News that as many as 100 hostages are being held, and that there may be seven or eight Americans among them. The kidnappers have released a statement saying there are "more than 40 crusaders" held "including 7 Americans."
Related:
New statement from Katībat al-Mūwaqa'ūn Bi-l-Dimā': "Claiming the In Amenas Hostage Operation"
Update IV:
"We'll kill infidels": Algeria gunmen told hostage
(Reuters) - Islamist gunmen who seized hundreds of gas plant workers in the Sahara told Algerian staff they would not harm Muslims but would kill Western hostages they called "Christians and infidels", a local man who escaped said on Thursday. In a rare eyewitness account of Wednesday's dawn raid deep in the desert, a local man employed at the facility told Reuters the militants appeared to have good inside knowledge of the layout of the complex and used the language of radical Islam. "The terrorists told us at the very start that they would not hurt Muslims but were only interested in the Christians and infidels," Abdelkader, 53, said by telephone from his home in the nearby town of In Amenas. "We will kill them, they said."[More...]
h/t
@DreamMalar
Update V: Via
FRANCE 24 liveblog
:
Mauritanian news agency ANI says Abu al Baraa, who led the attack on gas field, has been killed. Al Baraa appeared on Al Jazeera earlier Thursday demanding the Algerian army pull out from In Amenas to allow negotiations. [48hr rule..ed]Algerian security source says 30 hostages killed, including seven foreigners, among them two Japanese, two Britons and one French national. Eight Algerian hostages were killed in the operation. (Reuters) According to an Algerian security source, the dead militants include a Frenchman, a Malian, three Egyptians, two Algerians, two Tunisians and two Libyans. (Reuters) Algerian state news agency APS quotes official say saying military operation at In Amenas gas facility over.
Update VI: Donald Douglas at American Power blog
has also updated through out the day
. I would also like to thank him for linking me. Related:
In Amenas, #Algeria Hostage Crisis: Does This Really Help?
Posted by:
Stable Hand
at
08:41 AM
Comments
Processing 0.01, elapsed 0.0025 seconds.
13 queries taking 0.0019 seconds, 7 records returned.
Page size 11 kb.
Powered by Minx 0.7 alpha.