Hey Agron Hasbajrami: Watch Out For Your Cornhole, Bud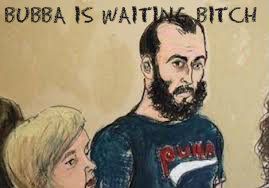 Agron Hasbajrami
No jihad for you
A Brooklyn man who pleaded guilty to supporting a terrorist group after he was arrested trying to board a plane to the Middle East to wage jihad was sentenced to 15 years in prison on Tuesday. As a part of his plea agreement, prosecutors dropped three additional terrorism charges, which could have sent Mr. Hasbajrami, 28, to prison for life. He was sentenced to the maximum 15-year prison term on the single remaining charge. Judge John Gleeson, who sentenced Mr. Hasbajrami in Federal District Court in Brooklyn, said he would have preferred to send him to prison for even longer.
h/t
TarekFatah
Posted by:
Stable Hand
at
10:18 PM
Comments
1
This turd doesn't need to watch out for his "cornhole" so eloquently put by you. When these types go to prison they are protected by the black muslim brotherhood and other muslim groups. They are treated like royality and supplied with anything they need to enjoy their stay. Only by sending them to a super max prison do they miss out on the good prison life. This cornhole watch for Muslim terrorists is simply a myth. Many become assigned to prison chapels as chaplin assistants and teachers of their faith amongst other things. Black Muslim groups consider honoring these Muslim fanatics as an "in your face whitey thing". Perpetuating the myth that they are somehow mistreated and corn holed by other inmates isn't conducive to changing the situation. Under federal control these assholes have it made. They don't change. Prison gives them time to plan, recruit, make new contacts and become even better at concealing themselves. It's an education paid for by the American taxpayers.
Posted by: SamIam at January 11, 2013 09:03 AM
2
Too bad we don't stand these turds up in front of a firing squad. As soon as this creep gets jungled up with the prison muslims he will be king shit.
Posted by: Mark at January 11, 2013 11:14 AM
Processing 0.01, elapsed 0.004 seconds.
15 queries taking 0.0032 seconds, 10 records returned.
Page size 7 kb.
Powered by Minx 0.7 alpha.