At Least There Is Still A 'Free Press' In Egypt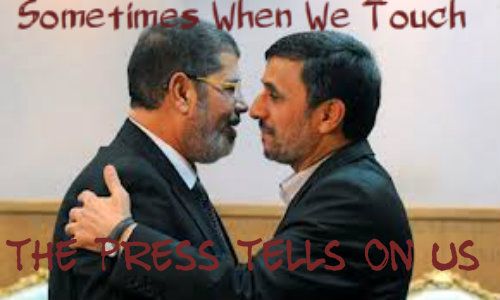 Oh wait
New York January 3, 2013--The Committee to Protect Journalists is alarmed by a series of investigations into independent Egyptian newspapers on accusations of insulting the president or reporting false news. Some newspapers and media professionals face formal charges in connection to their critical reporting, according to news reports. "There is a growing trend of targeting independent and critical voices under President Mohamed Morsi's government, which is especially worrying in light of a lack of protection for the press under the new constitution," said Sherif Mansour, CPJ's Middle East and North Africa program coordinator. "Egypt is taking a large step back toward Mubarak-era practices." Today, Magdi Algallad, editor of independent daily newspaper Al-Watan, was charged with insulting the president--a criminal offense--in connection with published cartoons, according to the newspaper. Wednesday, Al-Masry al-Youm, one of Egypt's leading independent dailies, said it is being investigated by the prosecutor-general following a complaint from the president's office, which accused it of publishing false news. Also Wednesday, the prosecutor-general referred Abdel-Halim Qandil, editor of independent weekly Sawt al-Umma, to the North of Giza prosecutor for official investigation, according to news reports. The accusations relate to an article Qandil wrote in October under the title "You are a liar, Morsi." [More..]
Arab Spring! Allahu Gaybar!
Posted by:
Stable Hand
at
11:26 PM
Comments
1
If this country had such a law, we'd all be in prison for making fun of the Prez. Then again we have better prisons with better conditions, food, country club atmosphere, etc.
Posted by: Moshe Ben Avram at January 04, 2013 07:46 AM
2
Those press journalists in Aegypt need to take some lessons from ubama's propaganda staff. There is no critism of ubama in Ameriki.
Posted by: EROWMER at January 04, 2013 08:19 AM
3
Our leftist friends would love to do this. All they scream about now is how people need to have respect for the president.
Posted by: wodun at January 04, 2013 06:56 PM
Processing 0.0, elapsed 0.0046 seconds.
15 queries taking 0.0036 seconds, 11 records returned.
Page size 7 kb.
Powered by Minx 0.7 alpha.