Tea Party FAIL
Shh, the media is comforting the baby.
A vociferous but peaceful group of several thousand people marched for miles through the downtown area on Friday, united by opposition to the Group of 20 summit but expressing a diversity of mostly liberal causes as an army of stone-faced riot police watched their every move.
Aw, baby is vociferous, but peaceful! Because of those nasty STONE FACED, OBVIOUSLY REICH WING RETHUGLIKKKAN RIOT POLICE!!11!!!!! But wait.... maybe, just maybe, they're a little more vociferous than they are peaceful...
Public safety officials said Friday night that 83 people were arrested at protests and other events and about $50,000 in property damage was done during the two-day summit, which ended Friday. They said a man who smashed store and business windows in the city's Oakland section on Thursday night was responsible for about $20,000 in damage.
Peaceful? Dear MSM,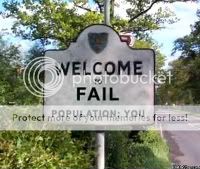 Over a million people concerned about the future of their country converged on Washington D.C. recently and the best they got were cries of "racism." Actual idiots who hate this country and want to crap on the Constitution get referred to as "vociferous but peaceful." Even though no Tea Party people were arrested, and no property damage recorded in the recent march on Washington. Hell, these people left Washington D.C. cleaner than when they had found it.