We Need to Talk About Tom Friedman's Last Column
It's very interesting.
A Conversation With a Cabbie and What It Tells Us About The Next Several Minutes of My Life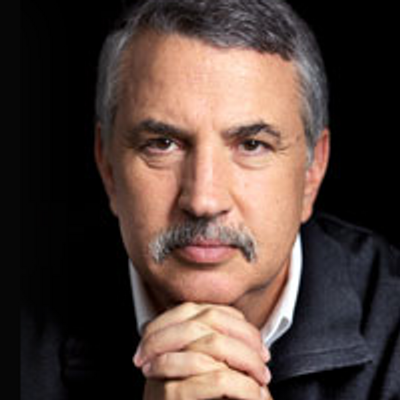 by Tom Friedman
Special Guest Columnist for Ace of Spades HQ
I was talking to my cabbie in Cairo, making idle chit-chat as we threaded our way through a colorful and boisterous bazaar, what the locals call a
souk
, when I pointed out how the world is becoming more interconnected every second. Then, he stabbed me. As the blade slipped between my ribs, it occurred to me the rubber of the knife's handle was made in Brazil, and the steel crafted in Japan. Much like the gaudy wares on display at the
souk
outside the red-flecked windows, my backseat butchering was a glorious
melange
of the intersection of ideas at the great crossroads of the world. As my cabbie continued to stab at my torso, I pondered that this moment was made possible by what I call "the pollenization of possibility." Consider: It required the melding of three cultures, Brazilian, Japanese, and Egyptian, to produce the perforation in my Minnesota-made kidney. It was as if the grand
viziers
of thought and the great moguls of trade had conspired for years to come together into the red-tipped point of my itinerant assassin's dagger. You can see this everywhere in the world, in "American" cars with parts made in Japan and largely assembled in Mexico, or in the latest "killer" app, conceived in Silicon Valley but coded in Seoul. The pace of cross-pollenization and adaptation is unstoppable and ever-increasing, much like the crazed murder-tempo of my assailant's unexpected blood-frenzy. I hold up my hands in defense, like those "left behind" in the New Economy, trying to protect themselves from the incoming sharp edge of disruptive change. Though, in my case, I was actually trying to protect myself from the incoming the sharp edge of stabbing. But, just as ideas from far-away cultures penetrate our society, the blade cuts into me like a viral meme, or perhaps a catchy Bollywood song. But one of those songs that plunges deeply into the meat of your palm and severs the nerves to your fingers. I cry out to passers-by for help, but just like those left behind by globalization, they are heedless of the changes happening all around them. Finally, I catch their attention. Then they begin stabbing me too. As the crowd gathers around me with knives and antiquated farm implements, some scratch-made, some from the
nuevas factorias
of Veracruz, it strikes to me that I am witnessing what I call the "sudden inevitable." In my book
The Sudden Inevitable,
I trace how events that overtake us have percolated in the collective unconscious for decades, even centuries. This guy just cut off my foot with a shovel. Ideas are pregnant in the ether before any human speaks them aloud, much like the idea of stabbing me to death has long percolated (I suspect) in the collective mind of my closest
confreres.
And thus, as I lie wet and wriggling upon the ground, this conclave of multicultural avatars pulling off my pants and leaving me naked to the waist for God knows what reason, I think about the quickening pulse of international concourse, and how it matches my own quickening pulse, as my heartbeat becomes fast, weak, and thready due to rapid exsanguination. Something of the world has been lost, and it will not be returning any time soon. Rather like my foot, which I see now has been placed upon a table in the
souk
and is now being offered for sale at the price of one pound, sixty
piastres
. I'm rather proud that the foot of a simple man from the farms of Minnesota should command such a lofty price in this place, this chattering beehive of a bazaar where the locals come to haggle over bolts of cotton and baskets of
taro
, and where Westerners come to be butchered and stripped down for their organs. And their foot. I cannot speak any longer. My microrecorder (made in the Netherlands) is almost full. Oh bugger, they just took that too