Saturday Politics Thread: Base Favorites (Gowdy, Carson, Sessions, Lee) [Y-not]
This week: "Base Favorites"
Trey Gowdy, Jeff Sessions, Ben Carson, and Mike Lee
In last week's poll, we had 673 morons request coverage of Trey Gowdy, 536 request coverage of Ben Carson, and 370 request coverage of Jeff Sessions. Mike Lee was the top vote-getter from the write-ins, so let's cover him this week as well.

Before we begin, let's have a sense of where these four men rank in popularity as potential 2016 Presidential candidates:
In the interest of space, I'm going to try to keep these summaries short, but provide you with some links touting their potential candidacies and any red flags, as I know them. As usual, it would be great to hear from you in the comments section if you have additional insights about them, positive or negative.
REP. TREY GOWDY (SOUTH CAROLINA)
Trey Gowdy (b. August 22, 1964, in Greenville, SC) is a member of the U.S. House of Representatives from the state of South Carolina. Gowdy was first elected to represent South Carolina's 4th Congressional District in 2010. He is running for re-election in 2014. He ran unopposed in the Republican primary. Based on analysis of multiple outside rankings, Gowdy is an average Republican member of Congress, meaning he will vote with the Republican Party on the majority of bills. Prior to his election to the U.S. House, Gowdy served as a clerk in the United States District Court and as a solicitor to the 7th circuit court. Below is an abbreviated outline of Gowdy's academic, professional and political career:
1986: Graduated from Baylor University, Waco, Texas
1989: Graduated from University of South Carolina School of Law, Columbia
1994-2000: Clerk, United States District Court; Assistant U.S. Attorney
2001-2010: Solicitor, 7th Circuit
2011-Present: U.S. Representative from South Carolina

Per Ballotpedia,
here's a link to how Gowdy voted on key bills in the 113th Congress
. And here's a summary of his positions on various issues: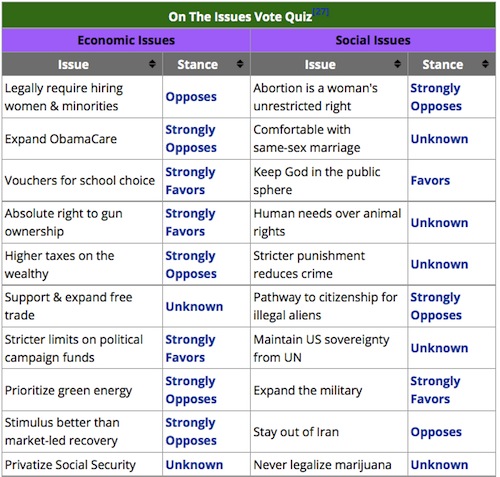 To be honest, as popular as Gowdy is in conservative circles, I had not realized he was being considered as a prospective candidate, but I guess some are hoping he runs. Here's
an article singing his praises
and, from earlier this year, here's a
list of Badass Things Trey Gowdy has said
. Could Trey Gowdy be a serious contender?
DR. BEN CARSON (MARYLAND)
Benjamin Solomon "Ben" Carson Sr. (born September 18, 1951) is an American author and retired neurosurgeon. He is credited with being the first surgeon to successfully separate conjoined twins joined at the head. In 2008 he was awarded the Presidential Medal of Freedom by President George W. Bush. After delivering a widely publicized speech at the 2013 National Prayer Breakfast, he became a popular conservative figure in political media for his views on social and political issues, spurring talk of his becoming a Republican candidate for the 2016 presidential election.
That was from Wiki. And
here's what Ballotpedia
has to say about Carson:
When asked the likelihood of his presidential candidacy on September 23, 2014, neurosurgeon Ben Carson stated, "Unless the American people indicate in November that they like big government intervention in every part of their lives, I think the likelihood is strong." Carson won the Conservative Summit, Polk County Republicans and New Hampshire Young Republicans straw polls in 2014. An independent group was also formed, the National Draft Ben Carson for President Committee, to gather donations and expand his support base should he decide to run. Only three previous presidents had no prior political experience, but all three, Zachary Taylor, Ulysses S. Grant and Dwight Eisenhower, served as high-ranking military officials.
Dr. Carson received his B.S. from Yale University and his M.D. from the University of Michigan. He pursued his residency in neurosurgery at Johns Hopkins. Carson has never held elected office or worked in government, so he does not have a record of votes. But he has spoken enough to permit us to come up with an
educated guess as to his positions
: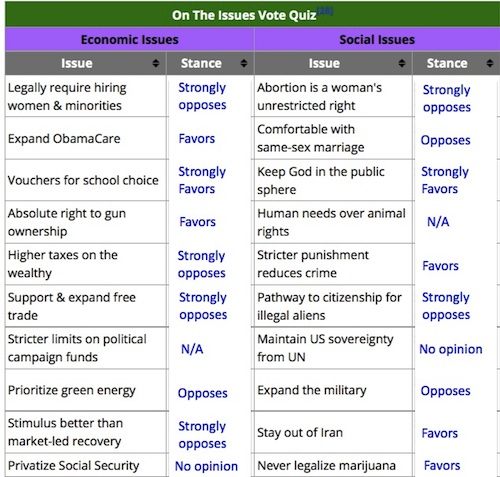 Dr. Carson launched a PAC this summer
, so I guess
he really is seriously considering running
. To be honest, I don't think I could support him at this time. He's simply too much of an unknown for my taste. And I wonder if people are satisfied with his
explanation about his gun control positions
. What would it take for you to be convinced that Ben Carson was the right man for the job?
SEN. JEFF SESSIONS (ALABAMA)
Jeff Sessions (b. December 24, 1946, in Selma, AL) is a Republican member of the U.S. Senate from the state of Alabama. Sessions was first elected to the Senate in 1996. Sessions most recently won re-election to the U.S. Senate in 2008. He defeated Vivian Davis Figures (D) in the general election. Prior to his election to the Senate, Sessions served as Alabama Attorney General from 1994 to 1996. Sessions is seeking re-election unopposed in 2014. Based on analysis of multiple outside rankings, Sessions is an average Republican member of Congress, meaning he will vote with the Republican Party on the majority of bills. Below is an abbreviated outline of Sessions' academic, professional and political career:
1969: Graduated from Huntingdon College, Montgomery
1973: Graduated from University of Alabama School of Law, Tuscaloosa
1973-1975: Practiced law in Russellville
1973-1977: U.S. Army reserves, attained the rank of captain
1977-1981: Practiced law in Mobile
1981-1993: United States Attorney for the Southern District of Alabama
1994-1996: Alabama Attorney General
1997-Present: U.S Senator from Alabama

Per Ballotpedia,
here's how Sessions voted on key bills in the 113th Congress
. And here's where he stands on the issues: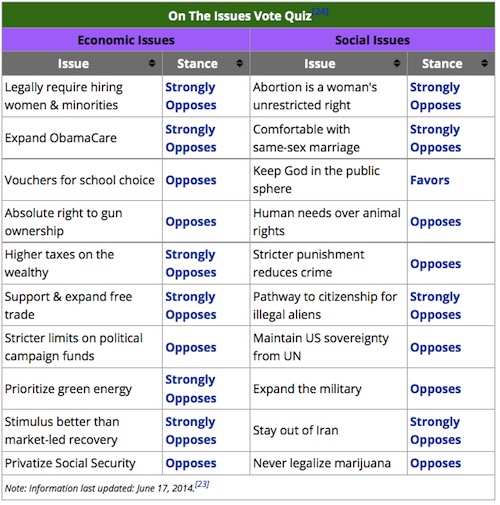 Earlier this year,
Laura Ingraham wrote an editorial touting Jeff Sessions
as a Presidential prospect. Senator Sessions' reply?
"I know Iím not qualified to be president of the United States."
I think a lot of us who are
adamantly opposed to amnesty
wish that Jeff Sessions would reconsider. It'd at least be nice to have someone who takes that issues seriously be a part of the primary process. That said, his age (he'll be 70 in 2016) might preclude a serious run.
SEN. MIKE LEE (UTAH)
Michael Shumway "Mike" Lee (b. June 4, 1971, in Mesa, AZ) is a Republican member of the U.S. Senate from Utah. Lee was first elected to the Senate in 2010. Prior to his election to the U.S. Senate, Lee served as counsel to Utah Governor John Huntsman. Based on analysis of multiple outside rankings, Lee is one of the most reliable Republican votes, meaning he can be considered a safe vote for the Republican Party in Congress. Lee earned his bachelor's degree from Brigham Young University and his J.D. from Brigham Young University School of Law. After earning his J.D., Lee was a law clerk to 3rd Circuit Court of Appeals Justice Samuel Alito. He the became an assistant U.S. attorney and a law clerk to Alito again as Supreme Court Justice. Below is an abbreviated outline of Lee's professional and political career:
2011-present: Member of the United States Senate
2005-2006: Counsel to Utah Governor John Huntsman

According to Ballotpedia,
here's how Mike Lee voted on key bills in the 113th Congress
. And here's his stand on key issues: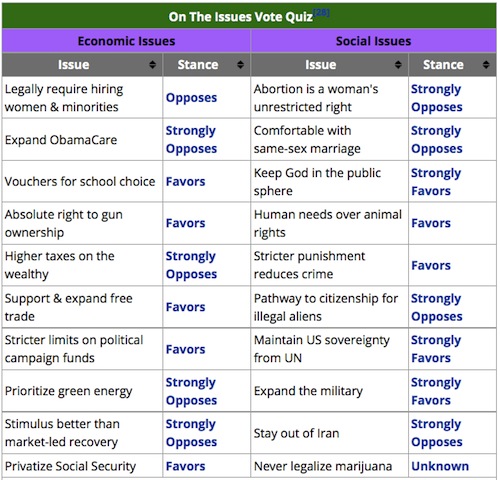 To be honest, I have not heard Mike Lee's name mentioned as a potential 2016 prospect and I seriously doubt that he will be running for POTUS any time soon. He is under a lot of pressure from the Utah GOP, many of whom seem to resent his presence in office after Senator Bennett was ousted by the Tea Party. From time to time there are criticisms leveled at Lee, most notably during the Shut Down. In my opinion, it's in response to that pressure that Lee decided to put forward some proposals on taxes and education. To me, they are pretty
blatantly pandering to Utah voters who tend to have large families
, especially given that
one of the proposals actually seems to involve expanding the Federal government's role in funding
higher education (by extending it to the highly controversial for-profit universities). Lee's proposals, which were unveiled earlier this year, did not receive much attention. He recently joined with Marco Rubio in proposing changes to the tax code. You can
read about it here
. Personally, I think Lee is concerned about getting re-elected and has hitched his wagon to someone he perceives as being a young politician who is acceptable to the GOPe. He's my senator, so I'm a little disappointed to see this, but I really do think he's doing it for political survival. Utah is a one-party state and that often makes for
dirty primary politics
. He'll be up for re-election in 2016, but the knives are getting sharpened already. (Here's one example of an
absolutely odious Op-Ed written by Dan Liljenquist
, who had run against Hatch in 2012 but who since has sold his soul out of political opportunism. Liljenquist compares Mike Lee to the man who lit himself on fire at the National Mall last year.)
In summary, these are the "ideology maps" for the four politicians discussed this week:

Choose your top SIX Republican prospects for 2016:
This week's poll includes the four candidates discussed today and the top vote-getters from last week (Walker, Perry, Cruz, Jindal, Haley, Paul, Martinez, and Rubio).
Finally, let's start to get a sense for which issues are driving your preferences in Presidential candidates:
Links to the prior threads:
Walker, Perry, Jindal
thread
Kasich, Haley, Martinez
thread
Rubio, Paul, Cruz
thread
Bush, Christie, Huntsman
thread Next week (October 11th) we'll be covering "Familiar Faces:" Mitt Romney, Paul Ryan, Mike Huckabee, and Sarah Palin. Bring your Tums!
******************************************************************
Moron Speedster1, from Southwest Ohio, would like everyone to know about an upcoming Moron Meetup:
Saturday evening, October 18
7:00 - 10:00 PM (may run longer)
Beavercreek, OH 45431
He has set up an email address for more information: swohmome AT mail DOT com