One Small Step for Thursday's ONT
"Houston, Tranquility Base here, the Eagle has landed"
On July 20th, 1969, the lunar module
Eagle
touched down on the moon, and mankind took their first steps off planet Earth. This is, in fact, my earliest memory. I was 2 ½ at the time, and I remember my mother sitting me down in front of the big old RCA console TV to watch grainy footage of Neil Armstrong descending the ladder. A half a billion other humans watched with me as the world held its collective breath.
"That's one small step for a man, one giant leap for mankind."

We come in peace, for all mankind
Indeed.
M O O N, That Spells Moon
Here's a recap of that day from NASA
When it comes time to set Eagle down in the Sea of Tranquility, Armstrong improvises, manually piloting the ship past an area littered with boulders. During the final seconds of descent, Eagle's computer is sounding alarms. It turns out to be a simple case of the computer trying to do too many things at once, but as Aldrin will later point out, "unfortunately it came up when we did not want to be trying to solve these particular problems." When the lunar module lands at 4:18 p.m EDT, only 30 seconds of fuel remain. Armstrong radios "Houston, Tranquility Base here. The Eagle has landed." Mission control erupts in celebration as the tension breaks, and a controller tells the crew "You got a bunch of guys about to turn blue, we're breathing again." (› Play Audio) Armstrong will later confirm that landing was his biggest concern, saying "the unknowns were rampant," and "there were just a thousand things to worry about."
The flag they left is bleached white now, but, with apologies to General John J. Pershing, time will not dim the glory of their deeds. Because of these men, and all of the people standing behind them on the ground, my youthful eyes looked to the stars and saw not the unreachable firmament that had tantalized earlier generations, but a universe of possibility.
Unconscionable
If Apollo 11 gave us dreams of the sky, down here on Earth we still have to deal with all of the slings and arrows of outrageous fortune. This story incensed me.
IQ costs Oregon parents their kids, but is that fair?
Seems the state has taken their kids away from this couple on the grounds that they are too stupid to raise kids. Note that there is no indication that they are incapable of caring for them, no accusation of harm to the children, nothing except the overreaching and crushing power of the state. This is why our Forefathers were determined that we would be citizens, not subjects. The state exists at our pleasure, to serve us. Bad things are going to happen if it keeps insisting that we exist to serve it. Very bad things.
Poetry
Do you like Kipling? I dunno, I've never kippled, but for some reason, the last story brings this poem to mind.
The Beginnings
by Rudyard Kipling
It was not part of their blood,
It came to them very late
With long arrears to make good,
When the English began to hate. They were not easily moved,
They were icy-willing to wait
Till every count should be proved,
Ere the English began to hate. Their voices were even and low,
Their eyes were level and straight.
There was neither sign nor show,
When the English began to hate. It was not preached to the crowd,
It was not taught by the State.
No man spoke it aloud,
When the English began to hate. It was not suddenly bred,
It will not swiftly abate,
Through the chill years ahead,
When Time shall count from the date
That the English began to hate.
Not sure why that came to mind. No idea, really. It's a mystery.
ETA
Special thanks to Moron pst314, who pointed out that I had originally posted this poem wrong. Not just wrong, but disastrously wrong. I remembered the poem, but when I Googled it up to get the full thing, I somehow got to a Stormfront-type site that had adjusted the words to fit their racist agenda, and I wasn't on the ball enough to realize this before I posted it. Apologies to the Horde and especially to Rudyard Kipling.
Musical Interlude
In honor of the opening story:
Round Up the Usual Suspects
Novelty Store Heist Suspect Remains At Large
Seems a tattooed man grabbed a couple of plastic dicks and ran off. He was last seen, according to the manager, "running north toward the grocery store with the two biggest dongs I sell." Let's hope that when this miscreant is caught, he faces a stiff sentence. One hesitates to imagine the depths he intends to plumb with his ill-gotten merchandise, but we can be sure that they will cause some friction in his household. Even though his defense will undoubtedly be that he was just screwing around, police should be careful that justice doesn't get shafted and that he does hard time.
Wit
Know what I miss about President W Bush? His class, of course, but also his wit.
Neat
These 30 GIFs PERFECTLY Explain Life's Little Mysteries
Addendum
Remember last week when I referred to soccer players taking a dive? I've never seen a more perfect example than this:
Should Have Stayed in Gotham City
America's Healthiest Grocery Store
When Whole Foods adopted the motto "Whole People Whole Planet", I didn't realize they were talking about their supply chain.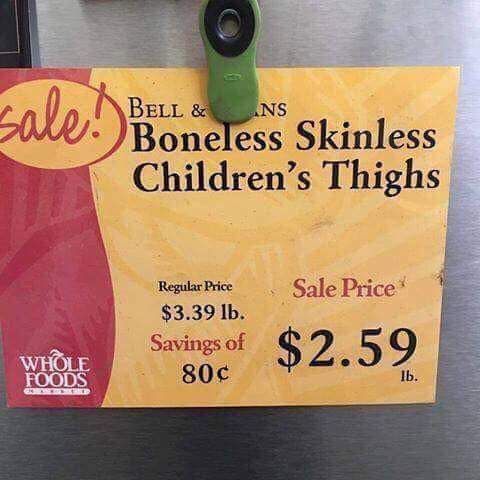 I know that's a little light on content, but it's all I have for you tonight. The Ont is brought to you by a ship-shipping ship, shipping shipping ships: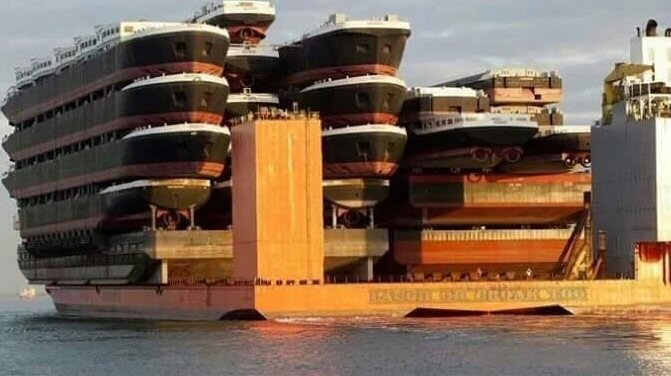 The Yahoo Group
is wondering if sex shops generally have video surveillance cameras.
Posted by: WeirdDave at
09:55 PM