St. Louis Reporter To Obama: You Know, People Are Kind of Frustrated And Angry About How Many Vacations You're Jetting Off To At Taxpayer Expense
"I think most folks understand how hard I work and how hard this administration's workin' on behalf of the American people."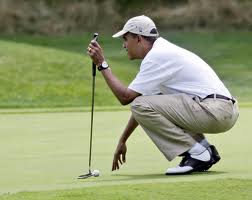 Reading the green is work.
I guess what this nation really has to ponder is whether
Mitt Romney's wife
works hard at her job or not. Video below the fold.